Overview
Overview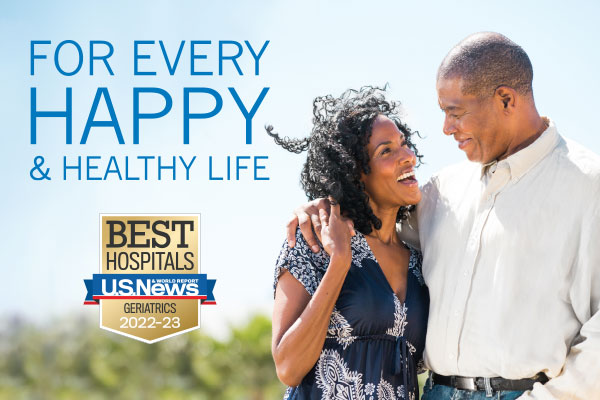 The nationally recognized Center for Geriatric Medicine, part of Cleveland Clinic Community Care, specializes in diagnosing and treating elderly patients with complex medical conditions and social problems.
The Center has been recognized by U.S News & World Report as one of the nation's top hospitals for Geriatrics, and has been designated as an Age-Friendly Health System by The John A. Hartford Foundation and the Institute for Healthcare Improvement in partnership with the American Hospital Association and the Catholic Health Association of the United States.
An age-friendly health system always delivers care to older adults with these four principles in mind:
Aligns care with each patient's specific outcomes goals, focusing on "What Matters" to the patient, across all care settings.
Prevents, identifies, treats and manages delirium across all care settings
Adheres to medication standards that do not interfere with "What Matters" to the patient
Ensure that each patient moves safely every day to maintain function necessary to do "What Matters."
Our goal is to create comprehensive geriatric care plans designed to preserve independence and improve quality of life for geriatric patients. Dementia care is a significant component of our clinical, teaching, and research efforts.
Center for Geriatric Medicine Provides Specialized, Expert Care for Older Adults
At the Center for Geriatric Medicine, older adults referred for geriatric assessments can be seen by a nurse and physician trained in geriatric problems. Consultations with social services and a geriatric pharmacist also can be coordinated.
We have expanded our geriatric medicine staff, and offer multi-specialty clinics and outreach programs at Cleveland Clinic Health System hospitals and Cleveland Clinic Family Health Centers throughout Northeast Ohio.
What is a Geriatrician?
What is a Geriatrician?
A board-certified geriatrician is a Doctor of Internal Medicine or Family Medicine with additional years of training in the prevention, diagnosis and care of problems that develop as you age.
At Cleveland Clinic's nationally-recognized Center for Geriatric Medicine, we call our board-certified geriatricians successful aging specialists because they can collaborate with your regular primary care physician to help you thrive. This coordinated, specialized care is particularly important when you develop several health issues that need to be managed at once or when your condition becomes more complex.
That's because your body changes in more than 50 ways between the ages of 50 and 80. Successful aging specialists are trained to detect these often subtle changes. For example:
You start to feel less thirsty. As a result, you can become dehydrated more easily, which can make you dizzy and mentally foggy.
Your kidneys process medicine more slowly. You may need a lower dose of medication to avoid side effects.
Much of your muscle turns to fat. You may weigh the same but could benefit from exercises to offset growing muscle weakness.
The latest research shows that preventive measures and early detection of potential health issues are beneficial to your overall health, and the intervention of a specially-trained geriatrician can help you preserve brain health, mobility, and general wellness as you age.
Team Care
When you have a geriatric assessment, in addition to your doctor you will also be seen by a nurse who is specially trained in geriatric care. This advanced practice nurse is licensed and board-certified to diagnose and treat illness and prescribe medicine. Your successful aging care team will provide the compassionate support and resources you need, from recommending consultations with social services, a geriatric pharmacist, or other providers, to referrals to specialists in other areas. This collaborative, multi-specialty approach ensures comprehensive and coordinated "whole person" care.
An Innovative Program
Our goal in the Center for Geriatric Medicine is to create comprehensive care plans designed to preserve independence and quality of life for patients as they age. We have developed a number of programs and services for older adults, including the Successful Aging Program, an innovative and comprehensive annual assessment program focused on prevention and maintenance to help adults ages 50 and older achieve their health and life goals.
To learn more about the full range of programs and services we offer for evaluation, prevention and treatment, visit our Programs & Services tab.
Programs & Services
Programs & Services
Successful Aging Program
Center for Geriatric Medicine offers an innovative program to help adults age 50 and older achieve their health and life goals. It includes a comprehensive and personalized annual visit with one of our board-certified Successful Aging specialists.
Why is this Successful Aging Program beneficial?
The latest research shows that preventive measures as well as early detection of potential health issues are beneficial for your health:
Brain Health – There are both medication and non-medication interventions that can significantly impact the progression of memory loss if started early
Physical Health -- Early mobilization and exercise are proven to help older adults age gracefully and thrive longer
From brain health to mobility, a detailed review of medications, and more, the program offers personalized medicine specifically focused on what matters most to YOU.
Program Features
Your comprehensive hour-long visit will include:
Health Screenings and Assessments
A memory assessment and preventive measures to promote long-term brain health
Age-appropriate screenings, including vision and hearing
Frailty screenings and fall risk assessments
Medication management and review with our geriatric pharmacist
Discussion of Personal Goals and Preferences
Lifestyle behaviors, including diet, nutrition, exercise, and home safety
Important immunizations after age 50 and age-appropriate preventive health
Tips to improve mobility and bone health
Access to Additional Support and Resources
Medical Referrals as needed, to services including physical therapy, occupational therapy, driving evaluations, audiology, ophthalmology, shared medical appointments and virtual visits
Social Workers to assist with financial planning, home services, transportation or senior residential options
Mobility devices – what you need and where to find it
Let us help you on your journey to successful aging. One annual visit will provide the help you need to stay fit and healthy.
Appointments
The Successful Aging Program is offered at nine convenient locations throughout Northeast Ohio. For more information about the program or to schedule your Successful Aging visit, call 216.444.5665.
Our Doctors
Appointments
Appointments
Appointments
To schedule an appointment with the Cleveland Clinic Geriatric Medicine team, call the appointment line at 216.444.5665 or toll-free 800.223.2273, ext. 45665 or request an appointment online.
To contact us for all other questions, please call 216.444.6819.
Locations
Directions to Our Offices
Our consultation and examination rooms are located at 10685 Carnegie Avenue, X10, Cleveland, OH, 44106 on Cleveland Clinic main campus.
Special Assistance for Out-of-town Patients
Cleveland Clinic's Medical Concierge program is a complimentary service for patients who travel to Cleveland Clinic from outside Northeast Ohio.
Our patient representatives can help with any additional arrangements including:
Schedule multiple medical appointments
Provide access to discounts on airline tickets and hotels, when available
Make reservations for hotel or housing accommodations
Arrange leisure activities.
For more information, call 216.444.2000, ext. 55580 or 800.223.2273, ext. 55580.
Learn More
---
Second Opinions
Following a thorough review of your medical records and diagnostic tests, our geriatric specialists render a second opinion that can be shared with your doctor.
What We Treat
Abnormal weight loss
Dementia
Dizziness
Falls
Gait Abnormality
Memory Loss
Department: Center for Geriatric Medicine
Locations: Cleveland Clinic main campus, Independence Family Health Center
Ronan Mangcucang Factora, MD, is Staff in the Department of General Internal Medicine, Section of Geriatrics and Program Director of the Geriatric Fellowship Training Program at the Cleveland Clinic. He is a diplomate of American Board of Internal Medicine, with added qualifications in geriatric medicine. His clinical interests include Alzheimer's disease, dementias, functional capacity and pain management.
For Medical Professionals
For Medical Professionals
The Center for Geriatric Medicine consists of an interdisciplinary team of healthcare professionals dedicated to working with you to help you maintain your patient's geriatric care, health and quality of life. We also can provide you with caregiver resources and contact information for reputable disease and condition-related organizations to share with geriatric patients and their families.
Nationally Recognized Geriatric Care
Our expertise in providing comprehensive geriatric care, educational programming and a unique Geriatric Fellowship Program have made Cleveland Clinic's Section of Geriatric Medicine one of the top programs of its kind in the United States.
What is the Center for Geriatric Medicine?
The Center for Geriatric Medicine guides hospitals with their geriatric activities, including protocols for falls and delirium.
Our electronic medical records enable coordination of nursing assessment. Metrics for cognitive and physical function are common to all care sites, which facilitates coordination and improved quality of care throughout the system.
Our geriatric care team includes:
Family medicine and internal medicine physicians with specialty certification in geriatrics
Psychiatrists and pharmacists with geriatric certification
Emergency department specialists who have grants to study geriatric health in that setting
Specialists, including cardiologists, gynecologists, urologists, neurologists, neurosurgeons and orthopedists
Therapists who specialize in problems common to geriatric patients, such as cognition, swallowing disorders, incontinence, osteoporosis, balance and others.
Why refer your patient to the Center for Geriatric Medicine?
Geriatric care patients present a challenge because of the complexity of their chronic diseases and functional impairments. Their care needs ratchet up significantly when cognitive function is impaired.
The most appropriate diagnoses are not always clear for frail, elderly patients, and choosing among the multitude of treatment options and geriatric care strategies can be daunting. Based on our experience of caring for thousands of older patients, we are able to help determine treatment protocols that consider the interplay of multiple medical conditions, polypharmacy and even socioeconomic factors.
Who should be referred for a geriatric consult or appointment?
Patients may benefit from a Geriatric Medicine consult if they:
Are frail, over age 75 and live alone
Have multiple health problems and/or take multiple medications to manage chronic conditions
Have memory impairments, Alzheimer's disease or are experiencing significant cognitive decline
Are experiencing behavioral changes, including sadness, depression or anxiety
Have difficulty performing activities of daily living
Are experiencing weakness from deconditioning
Are experiencing balance and gait problems
Have nutritional concerns, including unexplained weight loss
Have been hospitalized and require long-term rehabilitation
Lack a good support network
Require help with end-of-life care decisions
How do I make a referral or appointment?
To make a referral or an appointment for your patient, please call the Cleveland Clinic Appointment Center at 216.444.5665 or 800.223.2272, ext. 45665. You also may call the Center for Geriatric Medicine at 216.444.6819, or 800.223.2273, ext. 46819.
When would a patient benefit from being referred to a geriatrician?
Contact a geriatrician if your patient is experiencing any of the following:
If you suspect polypharmacy (when the patient appears to be on too many medications).
Has memory impairments, Alzheimer's disease or is experiencing significant cognitive decline
The patient is displaying behavioral problems resulting from cognitive problems
If the patient is non-compliant with medications or therapy because of cognitive issues, a letter of capacity may be needed ("expert evaluation").
The patient appears to need a caregiver, but has none or the person in place is inadequate.
If the patient is showing signs of depression, sadness or anxiety.
The patient has fallen, or the patient has balance or gait problems
The patient is experiencing weakness from de-conditioning
If you have nutritional concerns, with the patient showing sudden, unexplained weight loss.
When there is uncertainty about the goals of care of the patient (aggressive versus comfort and function).
When the patient requires help with end-of-life care decisions
When there is difficulty performing activities of daily living (ADL).
Our Services and Programs
Our care, services and programs are patient-centered, comprehensive and delivered in a timely, thoughtful manner. Learn more about our services:
Resources
Resources
A geriatric patient is an older person with impaired overall function. There is no set age, but he or she is usually more than 75 years old with chronic illness(es), physical impairment and/or cognitive impairment.
Older adults with frailty may also struggle with the following:
Gait abnormalities and recurrent falls
Depression
Fatigue
Cognitive impairment and/or dementia
Behaviors associated with dementia
Urinary incontinence
Reduced strength
Low levels of physical activity
Weight loss.
The cause is often multifactorial, reflecting the aging immune system, lifestyle choices, comorbidities and the psychosocial setting. Patients and their families note the loss of muscle mass, a sense that clothing hangs, a low-quality diet and a reduced level of activity. Frailty places older adults at increased risk of adverse events such as malnutrition, falls, fractures, death, disability and institutionalization.
They also may be prescribed multiple medications and encounter adverse effects from polypharmacy. They may not be making safe decisions for their healthcare, safety or finances. They may be at risk of exploitation, neglect or even abuse.
---
We can help you determine the caregiver services and programs you need and assist you to secure these services.
Community Services
Housing
We can provide information and suggestions about how to plan for and select appropriate housing to meet your current and future needs.
Home Care
You may be able to remain in your own home by making modifications that improve its accessibility and safety.
You also may benefit from the assistance of a home care or home health aide. Home care aides help with daily activities, such as bathing, meal preparation, and getting to and from a doctor's appointment.
Home health aides can also help with the needs of geriatric patients such as medication monitoring and simple wound care. Fees for home care are based on hourly rates and vary depending on the level of assistance required.
Continuing Care Retirement Community

A continuing care retirement community (CCRC) includes several levels of housing, including assisted living and skilled nursing/long-term care. A CCRC usually guarantees lifelong accommodations and includes access to its own long-term care facility. Residents typically sign a long-term contract or lease and pay a one-time entrance or endowment fee.
While Medicare and Medicaid do not cover costs of independent and assisted living housing in a CCRC, the programs usually cover some or all the costs of housing in the CCRC's skilled nursing/long-term care facility.
Assisted Living

Designed for frail, older adults, assisted living provides a combination of apartment-style living, socialization activities and personal geriatrics care services, such as meals, medication monitoring, transportation and housekeeping services.
Assisted living facilities have professional staff on duty between eight and 24 hours each day, depending on the needs of their residents. Skilled nursing services may be provided on a part-time intermittent basis to assisted living residents, but cannot exceed 120 days in any 12-month period.
Fees for assisted living are not covered by Medicare or Medicaid and costs vary. The latest data* indicates a range of between $1,200 and $4,500 per month. The most common method of payment is through a rental agreement that covers rent and basic services. Additional services can be provided at an additional cost. (*Supportive Housing for Older Persons, Western Reserve Area Agency on Aging, 2005)
Long-term/Skilled Nursing Care assisted living facility. Such care also can be provided in a skilled nursing facility (nursing home) able to provide skilled nursing and rehabilitation services and/or 24-hour nursing care if needed.
Fees for long-term care can be covered through long-term care insurance, private insurance, Medicare and/or Medicare Supplement Insurance (MedSupp/Medigap).
Respite Options
If a family member or caregiver needs time away from the responsibilities of caregiving, the following services can provide that much-needed respite for a couple of hours or a couple of days.
When you need time away from the responsibilities of caregiving, the following services can provide the break you need – for a couple of hours or even a couple of days.
Adult Day Programs

Community-based daycare programs, including Euclid Hospital's Neuro Day Hospital Rehabilitation Program, provide services that coordinate your medical needs, rehabilitation needs, and social and emotional needs. These programs can help you remain at home by providing you with regularly scheduled care and your caregiver with time to work and address personal needs.
Adult day programs are run by many healthcare and social service organizations. Most programs start around 9 a.m. and end between 3:30 p.m. and 5 p.m.
We can help you find a program that will fit your needs, or you can search for programs through ElderLocator or the National Adult Day Services Association. You also may call the association toll-free at 800.558.5301.
Home Respite Programs

Trained home care and home health aides or volunteers from Cleveland Clinic Hospice, other non-profit and for-profit hospices, religious organizations, social service agencies and disease-specific organizations, such as the Alzheimer's Association, are available to come into your home and provide short-term care.
Facility-based Respite Programs

Many hospices, nursing homes and assisted living facilities, especially those providing care for people with Alzheimer's disease, have staff and rooms devoted to respite care.
Hospice Care

This special kind of assistance offers 24-hour care that emphasizes pain management and quality of life. Cleveland Clinic Hospice's team, including physicians, nurse, counselors, clergy, therapists, aides and volunteers, can provide hospice care as a respite service in your home, in a long-term care facility, or in the hospital.

Fees are covered by Medicare, Medicaid and most private insurance plans. For more information about Cleveland Clinic Hospice, call us locally at 216.444.9819, or toll-free at 800.227.2273, ext. 49819.
Nutrition Options
If you don't eat well, you won't be able to maintain your health, strength and ability to carry out daily activities. Besides providing you with an individualized nutrition plan, we also can provide information on:

Commercially prepared meals
Many companies offer prepared or frozen meals that are nutritious, low in sodium and unhealthy fats, easy to prepare in a microwave or toaster oven, and appropriate for a wide range of caloric needs.
Community dining programs
Eating is a social activity: It helps you to maintain both your physical and emotional health. We can provide information on community dining programs and activities offered through local senior centers, religious organizations or social service agencies.
Home-delivered meals
Home-delivered meals can be ordered through local community agencies, such as Meals-on-Wheels, or from for-profit companies that serve the general public.
Transportation Options
There are various kinds of transportation services:

Curb-to-curb services require you to be able to walk from your home to the curb to enter the vehicle.
Door-to-door transportation assists you from your home to your destination.
Escort services provide a person to accompany you to medical appointments or while banking or shopping. Some local offices on aging and senior centers also provide the latter service.

Good sources for local transportation options include your local office on aging, senior center, community newspaper and Yellow Pages. You or your loved one can find busses, ride-sharing programs and volunteer organizations that provide transportation services to older adults.
As part of their service package, many seniors-only apartment buildings and assisted living facilities provide transportation for social activities, shopping, banking and medical appointments.
Community Paratransit Services
Most large city and/or regional transportation companies have small busses or vans that can be scheduled for curb-to-curb service. In most cases, the cost of the service is between $1 and $3.
Pay-as-you-go Services

Local taxi and transportation companies and licensed, bonded private individuals also provide transportation services. Many are listed in the Ambulance Services or Transportation Services sections of your local Yellow Pages and in the classified section of your community newspaper.
Handicapped Parking Permits
Hanging vehicle tags and special license plates are available from each state's Bureau of Motor Vehicles.
If you prefer, you may request an application by calling 800.589.8247.
Legal Assistance

If you require assistance preparing advance medical directives, our hospital ombudsman or the social worker participating in your geriatric assessment will be able to provide the forms you need.
You also may download forms from the National Hospice and Palliative Care Organization or call to request the documents at 800.658.8898.
Living Will

This document, which must be in writing and either be notarized or witnessed by two non-blood-related people, gives advance instructions on your wishes regarding withdrawing or withholding life-sustaining medical care should you be unable to express your wishes. State of Ohio Living Will Declaration form
Durable Power of Attorney for Healthcare
Do Not Resuscitate Order (DNR)
This document expresses your wishes regarding cardiopulmonary resuscitation (CPR) if you stop breathing or your heart stops beating.
Related Content
---
Community Resources
Below, find agencies, programs, services and support groups.
Many organizations have local chapters; contact information is included.
Please note: This information is provided by Cleveland Clinic and is not intended to replace the medical advice of your doctor or health care provider. Please consult your health care provider for advice about a specific medical condition.
Agencies
Programs & Services
Groups
---
Prescription Discounts
The best source for information on free or low-cost medications is Free and Low-Cost Prescription Drugs, published by the Cost Containment Research Institute.
Other resources include:
---
Education & Enrichment Programs
People 60 and older are invited to attend classes for free, on a space-available basis, at many state-supported colleges and universities. In addition, education and life-enrichment programs are offered at/through:
---
Assistive Devices, Supplies & Products
The best source for information on medical supplies and devices is the Western Reserve Area on Aging's Older Adults: The Resource Guide. To order a free copy, call 216.621.8010 or place an order online.
Hip Protectors
How We Can Help with Caregiver Services
Our multidisciplinary team includes doctors, nurses, therapists, technicians, social workers and other medical professionals who are dedicated to helping your loved one achieve the best possible health outcome while providing you with the support, information, caregiver services, and tools that you need.

If you are the primary caregiver for an older family member, spouse, or friend, you have taken on a rewarding, but challenging role. If you begin to experience caregiver stress, you need to seek help to ensure that your own health does not suffer.
Below, read signs and symptoms of caregiver stress:
Feelings of resentment, anger, impatience and/or irritability at the care recipient or other family members
Feelings of guilt and inadequacy because you believe you aren't doing enough for the care recipient
Anxiety from feeling underwhelmed with information and overwhelmed with responsibilities
Low energy, fatigue and feelings of mental and physical exhaustion
Feelings of apathy, including loss of libido and interest in once pleasurable activities
Mood swings, including feelings of sadness and spontaneous outbreaks of crying
Appetite changes that have led to weight loss or gain
Insomnia or the inability to get out of bed in the morning
Increased family or job stress tied to family-caregiver conflicts
Social isolation tied to caregiving responsibilities that consume time, energy and money
Increased "self-medication" with tobacco, alcohol, psychoactive medications or illegal drugs
Postponed or missed medical and dental appointments.
If you are experiencing such symptoms, you may need advice, guidance and help with your caregiver responsibilities. At Cleveland Clinic, we're here for you. For more information, call us locally at 216.444.5665 or toll-free 800.223.2273, ext. 45665.
---
Pamphlets & Brochures
The following brochures may be ordered free from the American Health Care Association by calling 800.321.0343:
Caring for Someone with Alzheimer's
Consumer's Guide to Assisted Living and Residential Care
Consumer's Guide to Nursing Facilities
Having a Conversation About Long Term Care
Having Your Say: Advance Directives
Here's Help: Visiting Friends and Relatives
Making the Transition: Nursing Home Life
Understanding Long Term Care Insurance
The following brochures may be ordered free or downloaded from the Internet:
---
Guides
Choosing a Nursing Home
800.638.6833
Help for the Unique Needs of Seniors with Cancer (free)
Cleveland Clinic
800.890.2464
How to Choose a Home Care Provider
202.547.7424
www.nahc.org/consumer-information/right-home-care-provider
Medicare and You
800.633.4227
Older Adults: The Resource Guide
(Cuyahoga, Geauga, Lake, Lorain, Medina counties)
216.621.8010 or 800.626.7277 ext. 120
Senior Living Guide: Cleveland & Northeast Ohio
440.338.5233 (free + s/h)
Shopper's Guide to Life Insurance
Ohio Department of Insurance
800.686.1578
So Far Away: Twenty Questions for Long-Distance Caregivers
National Institute on Aging
800.222.2225
https://www.nia.nih.gov/health/getting-started-long-distance-caregiving
The Pocket Guide to Good Health for Adults
800.358.9295
www.ahrq.gov/ppip/adguide
Your Guide to Choosing Quality Health Care
800.358.9295
www.ahrq.gov/consumer/qnt
---
Books
For a complete list of the latest titles available, visit Kaplan Publishing online.
Aging in Place: Designing, Adapting, and Enhancing the Home Environment, E.D. Taira, M.P.H., O.T.R. and J.L. Carlson, M.S., O.T.R.
Age Well! A Cleveland Clinic Guide, Robert Palmer, M.D., and Eileen Beal, M.A. (November 2006)
Arthritis: A Cleveland Clinic Guide, John D. Clough, M.D.
Avoiding the Medicaid Trap, Armond Budish
Caregiving at Home, William Leahy, M.D.
Caring for the Parents Who Cared for You, Kenneth P. Scileppi, M.D.
Diabetes: A Cleveland Clinic Guide, S. Sethu Reddy, M.D.
ElderCare 911: The Caregiver's Complete Handbook for Making Decisions, Susan Beerman, M.S.W., and Judith Rappaport-Musson, C.S.A.
Getting a Good Night's Sleep: A Cleveland Clinic Guide, Nancy Foldvary-Schaefer, D.O.
Heart Attack: A Cleveland Clinic Guide, Curtis Rimmerman, M.D.
Heart Failure: A Cleveland Clinic Guide, Randall Starling, M.D.
Home Planning for Your Later Years, William Wasch
How to Care For Aging Parents, Virginia Morris
Liver Disorders: A Cleveland Clinic Guide, Nizar Zein, M.D.
Merck Manual of Geriatrics, Mark H. Beers, M.D., editor; available free online.
One Stroke, Two Survivors, Berenice and Herb Kleiman
Osteoporosis: A Cleveland Clinic Guide, Abby Abelson, M.D.
Pain Management: A Cleveland Clinic Guide, Michael Stanton-Hicks, M.D.
Primary Care: A Cleveland Clinic Guide for Partnering With Your Family Doctor, Vance M. Brown, M.D.
Prostate Cancer: A Cleveland Clinic Guide, Eric Klein, M.D.
Self-Care for Caregivers, Pat Samples, Diane Larsen, Marvin Larsen
Share the Care: How to Organize a Group to Care for Someone Who is Seriously Ill, Cappy Capossela and Sheila Warnock
Stedman's Medical Dictionary (28th Edition)
Successful Aging, John Rowe, M.D., and Robert Kahn, Ph.D.
Taking Care of Mom, Taking Care of Me, Sima Devorah Schloss
The Carebook: A Workbook for Caregiver Peace of Mind, Joyce Beedle, R.N., B.S.N.
The Comfort of Home: An illustrated step-by-step guide for caregivers, Paula Derr, R.N., and Maria M. Meyer
The New Love and Sex After 60, Robert N. Butler, M.D., and Myrna I. Lewis, Ph.D.
The New Male Sexuality, Bernie Zilbergeld
The Memory Bible, Gary Small, M.D.
The 36-Hour Day, Nancy L. Mace and Peter V. Rabins
Understanding Health Care, Richard Saul Wurman
Geriatric Care Resources
Agencies that Rate Quality
Information upon which to base important health care and geriatric care decisions.
Government Health Sites
A-to-Z directories and links to health information of interest to older adults and their caregivers.